W.E. Rock - Rock Crawling Competition
W.E. Rock - Rock Crawling Competition
8/6/2022 - 8/7/2022
Description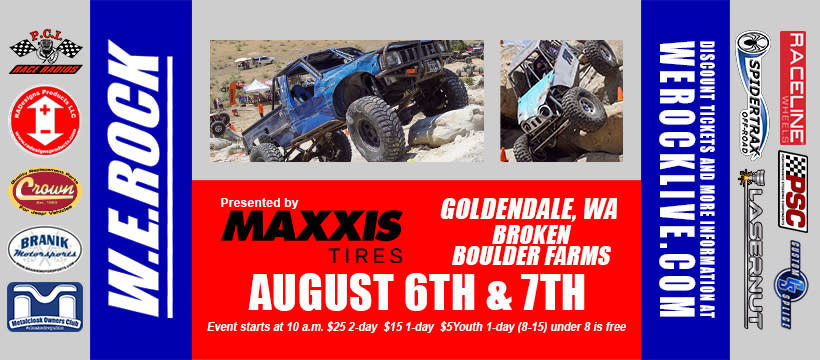 W.E. Rock Western Series Round 3, August 6th and 7th – Broken Boulder Farm, Goldendale, WA Bring your chairs! Food and restrooms are available onsite as well. There will be offroad vendors and lots of spectators and teams. Going to be a great weekend. Event Starts at 10 am Saturday, August 6th.
About W.E. Rock The sport of World Extreme Rock Crawling or W.E. ROCK as it is known to our fans is all about challenging driver and machine. Competitors build amazing vehicles to drive over the most extreme obstacles our world renowned course designers can dream up. You will see vehicles perform maneuvers you never thought possible. Conquering large boulders, steep climbs, rock ledges and massive drops, all while avoiding strategically placed cones. Depending on the class the competitors choose to compete in their vehicle must follow some basic build rules and safety requirements. The rules are designed to keep each class fair while allowing the builder freedom to engineer the most competitive vehicle they can.
Broken Boulder Farm
290 Pipeline Rd



Goldendale

,

WA

98620

United States



8/6/2022 - 8/7/2022
Visit: https://www.werocklive.com/w-e-rock-western-series-round-4-august-6th-and-7th-broken-boulder-farm-goldendale-wa/ for complete schedule, Spectator tickets and Driver registration.